With the spread of COVID-19 virus worldwide, more and more people are wondering what are the available ways to prevent this infection. We have searched the scientific literature to discover one nutritional supplement that can protect coronavirus.
Coronavirus infections with are nothing new. These viral infections have long been known in both animals and humans. What's new in this epidemic is a strain of the virus known as COVID-19. It is a new strain of the virus that has only recently moved from animals to humans. This form of viral infection is about 10 times more lethal than the flu. The infection is spread and treated in ways that are common to all other viral infections.
It is known to veterinarians that coronary virus infections are common in cow and horse farms. The Veterinary Virology textbook states that passive immunity against coronaviruses is associated with high levels of immunoglobulin IgG1 in the blood. High levels of immunoglobulin are found in colostrum, the first milk, so feeding the animals with colostrum is necessary until the animals develop their antibodies against the coronavirus. Strict hygiene and passive colostrum protection are the main ways to prevent the spread of infection on farms. Like in cows and horses, colostrum is effective in all mammals, including humans.
Colostrum is the first milk to appear in late pregnancy or just before birth. Colostrum is a mixture of immune factors, growth factors as well as important nutrients that provide a boost to the immune system and boost the health, vitality, and growth of newborns. Colostrum contains various immune factors such as immunoglobulin, lactoferrin, as well as proline-rich polypeptides. Proline-rich polypeptides (PRPs) possess a unique ability to modulate the immune system by acting as signaling molecules that activate or deactivate the immune system as needed. Colostrum found in Colostrum Farmavita is treated with a patent protected process in which inactive fats are removed and the amount of immunoglobulin is increased. As a result of this process, colostrum contains a high immunoglobulin content (minimum 30%) that helps strengthen the immune system.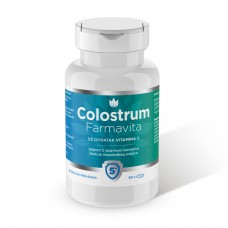 Colstrum Farmavita, a pack of 60 capsules of cow's colostrum can be found at Our-atrhritis web shop. For preventative purposes, it is recommended to take two capsules a day. In the case of illness, it is recommended to take 3 capsules twice daily to support the immune system.