There is extreme pain, and then there's sciatica! It is often described as the worst pain imaginable. With an acute attack of sciatica painkillers don't work. Stretches and exercises don't work. Tens devices have a marginal impact. Massage therapist Ian Garside suffered a sciatica attack lasting 3 weeks to the extent where he could not leave his house. Unable to find anything that could ease his pain, he designed the novel Sciatic Pain Relief Cushion which has proven to relieve pressure on the sciatic nerve. Editor of the independent back health website www.BackMentor.Me spoke to him to find out how his invention relieves sciatic pain.
BackMentorMe: Ian, tell us about your invention?
Ian: It's actually quite simple. It's a heart shaped cushion. You position in a way that relieves pressure on either your right or left sciatic nerve, depending on where you feel the pain.
BackMentorMe: That's it? A heart shaped cushion? How did you come up with that idea?
Ian: During one of my sciatica attacks I noticed that the only time I felt the pain subsiding was when I sat on the toilet. It occurred to me that it was due to the fact that there was less direct pressure on the sciatic nerve.
"My eureka moment happened on the toilet"
That gave me the idea to make a device that could replicate the effect. I couldn't drive, so I walked to the local hardware shop and bought some foam pipe lagging. I used the lagging and a length of left over copper pipe to make a very basic prototype in the shape of a toilet seat. This is what later became the Sciatic Pain Relief Cushion.
BackMentorMe: And nobody had thought of that before you?
Ian: If they did, they didn't commercialise the idea. I searched everywhere on the Internet for a solution to my sciatica problem.
"I searched high and low, but found nothing like the sciatic pain relief cushion"
I didn't find anything similar to my idea. No cushion that is proven to lessen the pressure on the sciatic nerve.
BackMentorMe: What proof do you have that it actually does relieve sciatic pain?
Ian: We have had it tested, so we know how the cushion distributes pressure when you sit on it, compared to sitting without the cushion. The pressure map images below speak for themselves. Red color indicates highest pressure, whereas deep blue color indicates lowest pressure. As you can see, sitting on the Sciatic Pain Relief Cushion significantly reduces the pressure on either sciatic nerve, depending on positioning.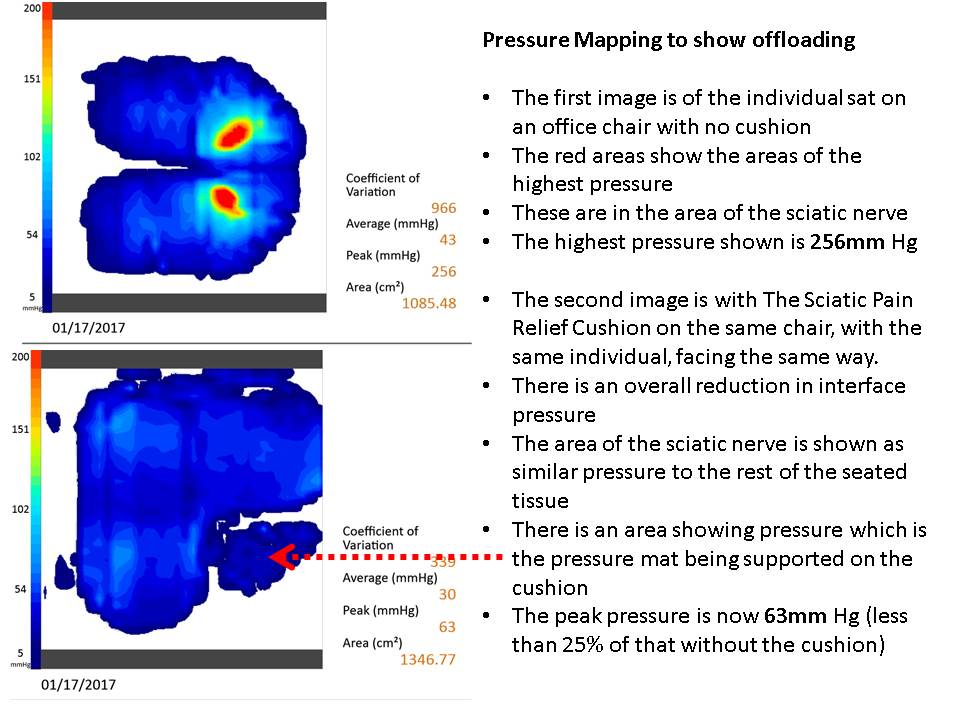 BackMentorMe: Okay, that's testing using technology. How about tests on real people?
Ian: Initially I developed a cushion to relieve my own pain, similar to the finished Sciatic Pain Relief Cushion. I started taking it with me everywhere, and friends started to call it "Ian's cushion". A friend of a friend is an HGV driver and was struggling badly with sciatic pain. He asked if he could try the cushion. I agreed, and when he arrived at my house he could hardly walk up to our front door.
"93% of sciatica sufferers felt less pain"
Inside I asked him to sit on the cushion, which was placed on a dinning chair, and asked him a number of questions. After 20 minutes he stood up to leave with the cushion. He was amazed to find that he could stand and walk without any pain. And so our trials began…
So far we have tested the Sciatic Pain Relief Cushion on 40 sciatica sufferers. In 93% of cases people felt less pain. We used a +5 to -5 global rating of change scale to assess the impact on individuals' sciatic pain symptoms. The cushion has also been registered as a medical device in Europe based on the claims we make.
BackMentorMe: So, that's virtually a cure for sciatica then?
Ian: No, it's not a cure. Sciatica is a symptom, rather than a condition in its own right. Something is putting pressure on, and irritating, the sciatic nerve. It's the longest nerve in the body running from the lower back down into the feet. So, discovering what exactly puts pressure on this nerve is the first step towards being cured. But diagnosis and treatment often takes a long time.
So, in the meantime the Sciatic Pain Relief Cushion can make life a lot more bearable for you. Also, by not aggravating the nerve you recover faster and hopefully reduce the need to take painkillers.
BackMentorMe: People who drive a lot for a living often struggle with sciatica. Is the cushion suitable for them?
Yes, it has been tested on many drivers. One HGV driver who had struggled with sciatica for 4-5 months loved the cushion so much he now calls it his "miracle cushion".
"HGV driver loves his 'miracle cushion' as it virtually removed his pain"
The pain was virtually gone within 3 weeks. On one occasion, because the pain had gone, he forgot how bad his back was and jumped out of the lorry.
BackMentorMe: Which retail outlets sell the Sciatic Pain Relief Cushion?
Ian: It is not available to the public yet, but we are launching a crowdfunding campaign on Indiegogo on 19th May 2017. So, anyone interested can register at our pre-launch page to be first in line for our early bird offer.
The cushion comes in two sizes. One for home and office use and a slightly smaller one for car and travel use.
Go to: https://www.krowdster.co/l/0aa5
BackMentorMe: Thanks for sharing insights about sciatica pain relief with us, Ian. Approximately 2 million people suffer from sciatica in the UK, so this could help a lot of people.
---
Watch video of Ian Garside talk about the Sciatica Pain Relief Cushion at BackMentorMe's Back Health event in May 2016: www.BackMentor.Me/IanGarside
Learn more about sciatica at www.BackMentor.Me/sciatica  
The www.BackMentor.Me website brings a fresh perspective to back health by sharing insights from recovered back pain sufferers and trusted experts. Copyright in this article is owned by Content Impact Ltd. You may freely redistribute this article provided you: a) do not charge a fee for such redistribution; b) redistribute the unaltered article in its entirety, including this copyright notice; and c) include at least one hyperlink to www.BackMentor.Me if you are redistributing the article electronically.